If your author site uses WordPress as its CMS, then you may have heard about the Gutenberg editor. (If you haven't built your author site yet, I highly recommend WordPress with independent hosting.) If you are a basic user, not into development or design, you may not understand what Gutenberg is or how it may change the way you manage your author site. This blog is meant to help you get used to, and excited about, the Gutenberg editor.
What Is Gutenberg? 
Obviously Gutenberg is the name of the dude who revolutionized the printing press, making it easier for more people to produce and access printed works. In other words, the guy most writers are thankful to for allowing us a venue to get our words out there. 
In WordPress, the Gutenberg editor is a complete overhaul of the content editor, where you create and update the content of your website. The current editor, that you are probably familiar with, looks like this: 

And Gutenberg looks like this: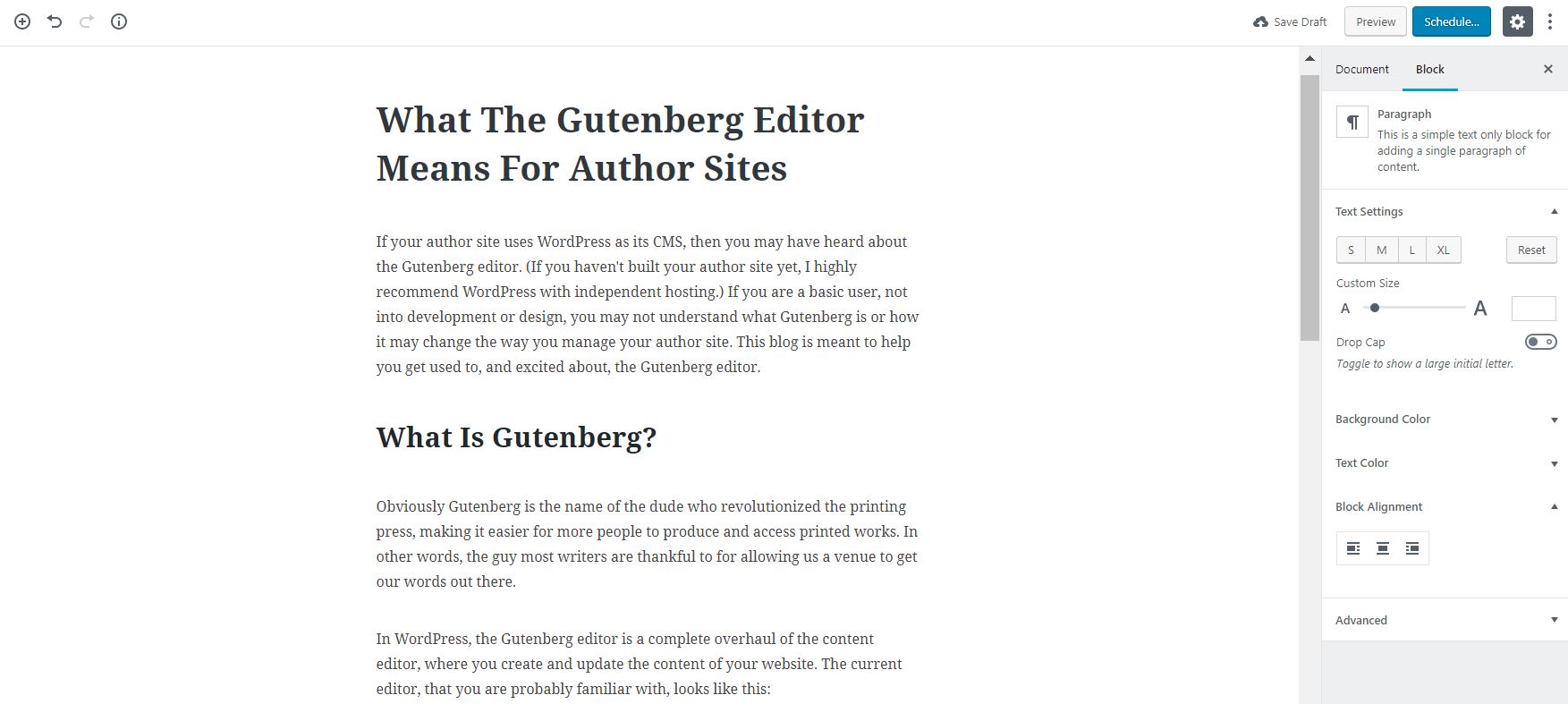 Gutenberg is built on the concept of "blocks." Each part of the post you are editing (a paragraph, photo, heading etc.) is a separate block that can be formatted independently of the rest of the content. Compared to the old editor, it takes up more screen real estate, gives you a more immersive experience, and is a little closer to the concept of What You See Is What You Get editing. (Although not as close as page-builders like Squarespace or Wix).
What Differences Can You Expect With Gutenberg? 
Updating basic text content, like a blog, is fairly similar in both Gutenberg and the old editor. You can type normally, and each time you hit return a new block is automatically formed. The only difference will be managing specialized text like pull-quotes or headings, which you can quickly insert by clicking on the block manager on the left of each block. 
Where Gutenberg shines, in my opinion, is its ability to integrate visual media with text. Adding in tweets from twitter or a YouTube video becomes much faster and simpler than it is in the old editor. This will allow authors to easily integrate multi-media into their posts. For example, if you host a YouTube channel, you will be able to integrate the channel more thoroughly to your blog. Or if you have a podcast, linking to the podcast becomes an easier and more visual experience. 
Additionally, it becomes easy to manage multiple photo galleries in a single post. This is great if you are an author who likes to share aesthetics with your readers, as you can create a gallery instead of using a third party program to stitch images together into a single photo.
Gutenberg also allows you to save blocks you commonly use. This can make it easy for you to save a template for new books and simply fill in the information when you have a new release. 
When Will Gutenberg Be Released? 
The test version of Gutenberg is already available as a plugin. At the moment I use it on all of the sites I manage. However, it is a good idea to thoroughly test the plugin with your site in a test environment before you use it on your live site, especially if you have a more complicated site or use several complicated plugins on your site (such as a bookstore or bookshelf). 
If you are interested in trying it out, you can just go to Plugins, and download it from the WordPress dashboard. 
The editor will update to Gutenberg automatically when WordPress 5.0 is released. However, the exact release date of that update is unknown at the moment, as they are holding off on the update until Gutenberg is ready for general use. 
In general, Gutenberg means more control for basic WordPress users. You will likely be able to manage your site more easily without the constant help of a developer or designer. This should be attractive to authors who want more creative control over their sites.